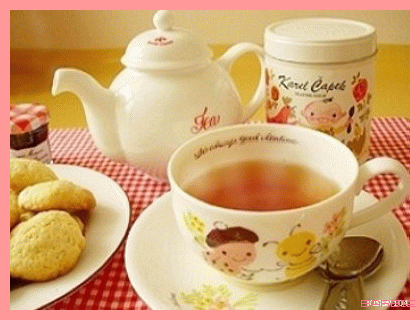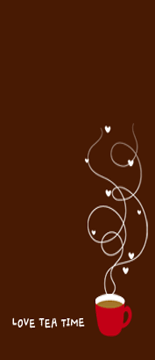 I can not beleive that I am just learning this!!
As much as I love tea, you would think that I would know this.
I think I may have known this on an intuitive level 'cause I've been drinking lots of hot tea in the last week or so.
(I hear you saying to your selves "Riiiiiight, and the cold has nothing to do with it.)

Anyhoo, I have decided to give you a few tea poems, rhymes, whatever and a tea recipe. I'd rather give you all a cup of my favorite tea (I have lots of favorites) but that would not be practical. Sigh!!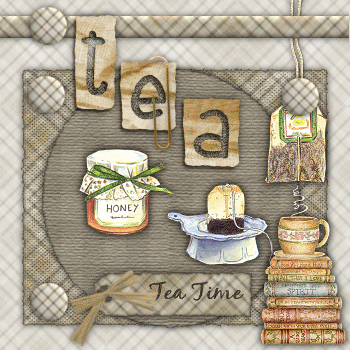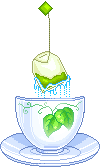 I had a little tea party, this afternoon at three
T'was very small, three guests in all, I, Myself, and Me
Myself ate up the sandwiches, while I drank up the tea
T'was also I who ate the pie and passed the cake to me!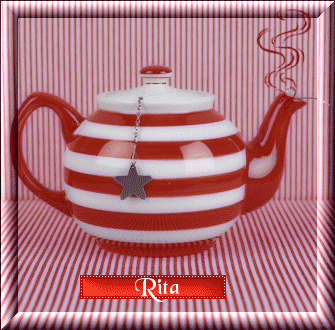 I cannot sit and chat with you,
the way I'd like to do.
So brew yourself a cup of tea,
I'll think of you, you think of me.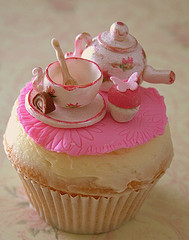 Chai Cupcakes
INGREDIENTS
1 cup milk
2 black tea bags
2 chai tea bags
1/2 cup plain yogurt
3/4 cup white sugar
1/4 cup canola oil
1 teaspoon vanilla extract
1 cup all-purpose flour
1/4 teaspoon baking soda
1/2 teaspoon baking powder
2 teaspoons ground cinnamon
1/2 teaspoon ground ginger
1/4 teaspoon ground cloves
1/2 teaspoon salt
1 pinch ground black pepper
DIRECTIONS
Preheat oven to 350 degrees F (175 degrees C). Grease a 12 cup muffin pan or line with paper baking cups.
Heat the milk in a saucepan until almost boiling. Remove from the heat and add the black tea and chai tea bags. Cover and let stand for 10 minutes. Wring out the tea bags into the milk and discard bags. In a medium bowl, whisk together the tea-milk, yogurt, sugar, oil and vanilla. In a large bowl, stir together the flour, baking soda, baking powder, cinnamon, ginger, cloves, salt and pepper. Pour the wet ingredients into the dry mixture and stir until blended. Spoon the batter into the prepared cups, dividing evenly.
Bake in the preheated oven until the tops spring back when lightly pressed, 20 to 25 minutes. Cool in the pan set over a wire rack. When cool, arrange the cupcakes on a serving platter.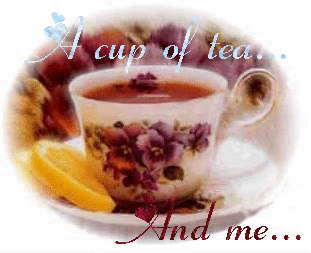 A "Reasonably Simple" SCONE Recipe
(in other words it shouldn't drive you too crazy)
INGREDIENTS
2 cups all-purpose flour
1/3 cup sugar
1 teaspoon baking powder
1/4 teaspoon baking soda
1/2 teaspoon salt
8 tablespoons unsalted butter, frozen
1/2 cup raisins (or dried currants)
1/2 cup sour cream
1 large egg
DIRECTIONS
Adjust oven rack to lower-middle position and preheat oven to 400 degrees.
In a medium bowl, mix flour, 1/3 cup sugar, baking powder, baking soda and salt. Grate butter into flour mixture on the large holes of a box grater; use your fingers to work in butter (mixture should resemble coarse meal), then stir in raisins.
In a small bowl, whisk sour cream and egg until smooth.
Using a fork, stir sour cream mixture into flour mixture until large dough clumps form. Use your hands to press the dough against the bowl into a ball. (The dough will be sticky in places, and there may not seem to be enough liquid at first, but as you press, the dough will come together.)
Place on a lightly floured surface and pat into a 7- to 8-inch circle about 3/4-inch thick. Sprinkle with remaining 1 tsp. of sugar. Use a sharp knife to cut into 8 triangles; place on a cookie sheet (preferably lined with parchment paper), about 1 inch apart. Bake until golden, about 15 to 17 minutes. Cool for 5 minutes and serve warm or at room temperature.
And
(recipes found at allrecipes.com)